Crash Course in Springfield, MO History:
6 Historical Locations You Can Visit
You may think you know Springfield, Missouri well as the home of Bass Pro Shops, the Wonders of Wildlife Museum & Aquarium, and Springfield style cashew chicken. But brush up on your Springfield history with our quick lesson of places you can visit during your next trip to the Queen City of the Ozarks.
1. Kickapoo Prairie
Over five hundred Kickapoo Native Americans lived in wickiups in the present day Springfield, MO area bounded North by Madison Street, East by Jefferson, South by Grand, and West by Campbell. Kickapoo High School is known for being the alma mater of Springfieldian turned celebrity, Brad Pitt, and the school's name and mascot -the Kickapoo Chiefs- are in reference school ground's proximity to the Kickapoo Prairie. A historical marker designating the prairie site can be found on the south wall of the apartment building on the east side of South Street, just north of Madison.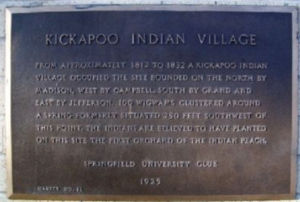 Historical Marker- Kickapoo Prairie
2. John Polk Campbell Farmstead
The first settlers to the Springfield area were John Polk Campbell and his brother, Madison, who settled in 1829 on the site of a large spring on Jordan's Creek. You can view the oldest house in Springfield, the
Gray/ Campbell Farmstead
, which was relocated to the Nathanael Green Park in 1984.
Gray/ Campbell Farmstead
3. Civil War Battle Sites
During the Civil War, Springfield's loyalty was divided. The Battle of Wilson's Creek in 1861, a Confederate victory where General Nathaniel Lyon was killed, was fought just a few miles southwest of town and is known as the first major Civil War Battle west of the Mississippi River. In 1863, the Battle of Springfield resulted in Union victory. Twelve markers are placed throughout Downtown Springfield commemorating notable moments in the battle.
Wilson's Creek National Battlefield
4. "Wild Bill" Hickock's Shoot-Out
Springfield's square is the site of the first recorded shoot-out in the United States. On July 21, 1865, following a poker game on Park Central Square, Davis Tutt stated that "Wild Bill" Hickock owed him money, and took Hickock's pocket watch as collateral. The following day, Tutt fired at Hickock from 75 yards away, barely missing his head. Hickock fired back, killing Tutt with a bullet through the heart. Look for a plaque on the southwest corner of Park Central Square detailing the history of the shoot-out, and engraved disks in the pavement of the square- just be sure to watch for traffic in this busy center-city circle!
Pavement Marker- "Wild Bill Hickock" shoot-out
5. Historic C-Street
Did you know that Springfield used to be two separate cities? In 1870, the Atlantic and Pacific Railroad came to Springfield, laying it's tracks a mile north of the "Old Springfield," which created the new town of "North Springfield." A colorful and lively commercial district of hotels and restaurants catering to railroad employees and travelers quickly formed, which explains the name-
Commercial Street
. The area boomed and officially became a part of Springfield in 1887. Today's C-Street has plenty to do, including a wonderful collection of restaurants, special events, and an art scene.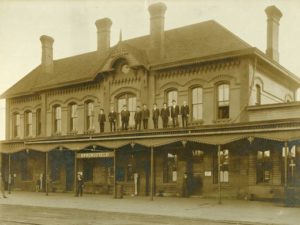 Commercial Street Depot
6. Birthplace of Route 66
Officials first proposed the name of Route 66 via telegram at the Colonial Hotel on April 30, 1926 in Springfield, MO, hence the city's recognition as the birthplace of Route 66. The famous route was located in Springfield from Kearney to Glenstone to St. Louis, through Park Central Square to Olive and College, and west along Chestnut Expressway. Celebrate Route 66 in our city by visiting the Route 66 Car Museum, Birthplace of Route 66 Roadside Park, or attending the
Birthplace of Route 66 Festival.
Birthplace of Route 66 Festival
The Oasis Hotel & Convention Center is located just one block north of historic Route 66, and is a favorite for Route 66 travelers because of our rich and unique history in Springfield, which includes being the area's largest Howard Johnson's Motor Lodge from 1964-1993. Elvis Presley and his entourage even stayed at our hotel in 1977 when he performed at Hammons Student Center- the second to last show before his death. In 1999, current owner Robert Low purchased the hotel, and has continually invested in renovations and upgrades to the property while respecting it's history and unique appeal. We would love to be your choice of accommodations during your visit to Springfield, Missouri.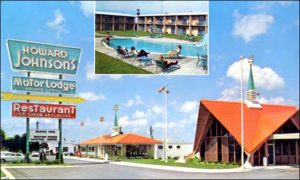 Vintage Howard Johnson Springfield Postcard
Modern Day Oasis Hotel & Convention Center