---
It's a fact that we aren't proud of… Greene County has one of the highest domestic violence rates in our area. Springfield alone had over 2,468 domestic violence aggravated assaults in 2018. Our local community is ready to shed light on this epidemic and help end it once and for all.
Enter: the iCare challenge. Local nonprofit organization Harmony House provides emergency shelter to domestic violence victims, helps survivors break the cycle of abuse, provides information to the community about the factors involved in domestic violence, and advocates for change. In 2015, they started the iCare campaign in which local businesses and individuals participate by wearing a symbolic black eye patch, bringing public attention to what is sometimes considered a closed door problem. The Oasis Hotel & Convention Center and parent company, Prime Inc., are proud to have been sponsors of the iCare campaign since it's inception. This year, iCare day is Friday, October 25th.
The Oasis has a community outreach taskforce, the "Oasis Give Squad," that is specifically devoted to creating volunteer and fundraising opportunities for local charity organizations. Throughout the year, they choose various nonprofits to support, but each October the focus returns to iCare and Harmony House. The hospitality industry can be affected by domestic violence in several ways, from knowing a co-worker in an abusive situation, to seeing victims of abuse searching for a night of shelter and escape in a hotel room. The cause is one that the Give Squad and our associates are passionate about.
There are several ways to get involved in the campaign and support Harmony House. Here are a few ways we have participated:
---
Campaign Spokesperson
Each year, the Oasis and Prime choose a company spokesperson to serve as a face for the iCare campaign. This has included our company owner Robert Low, GM Missy Handyside, and this year our associates Ashleigh Schoelen and Andrea Wahl . Your company representative can have professional photos taken at the annual iCare kickoff breakfast.
---
Fundraising Efforts
In addition to raising awareness about domestic violence by being a spokesperson for the campaign, the Oasis Give Squad designates the month of October to raise funds for Harmony House. Efforts have included selling dress down days, iCare t-shirts, bracelets, and window stickers.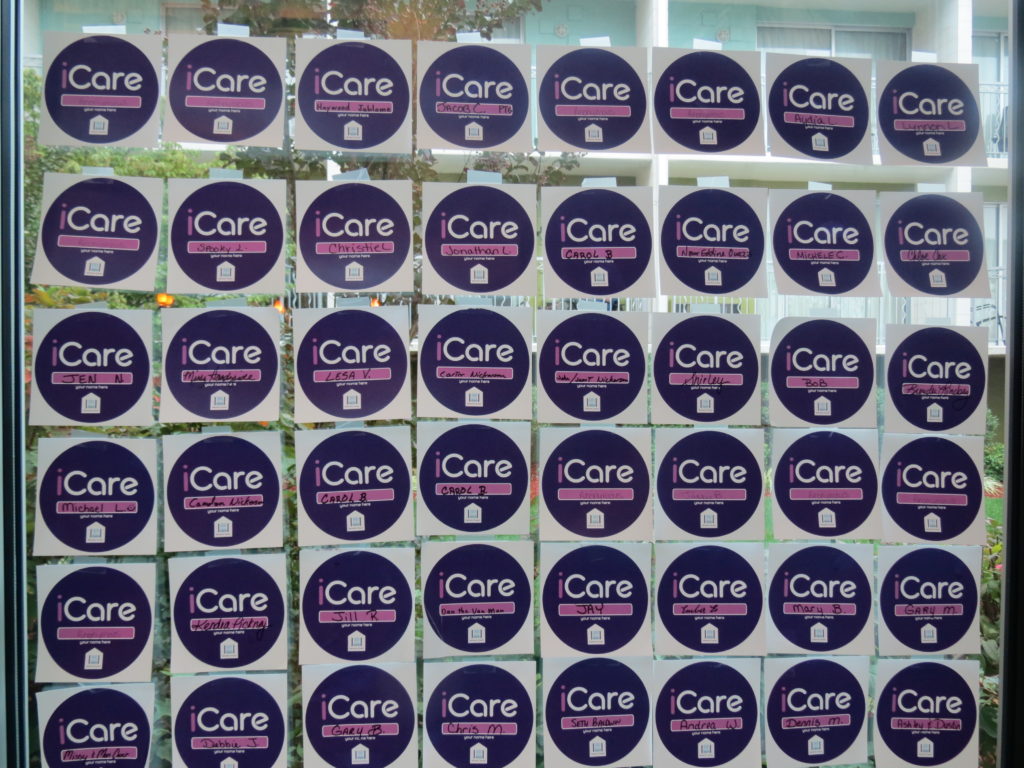 ---
The Oasis also solicits donations directly to Harmony House using the "Support a Business" feature on the iCare section of the Harmony House website.
This year, our innovative maintenance team also proactively solicited donations for Harmony House from some of our top hotel vendors. We are so thankful and thrilled to announce that the following companies donated to the cause:
DeLong Plumbing Heating & Air $500
Cardinal Roofing $500
LifeMark Bath & Home $500
Specialty Air Conditioning Services $500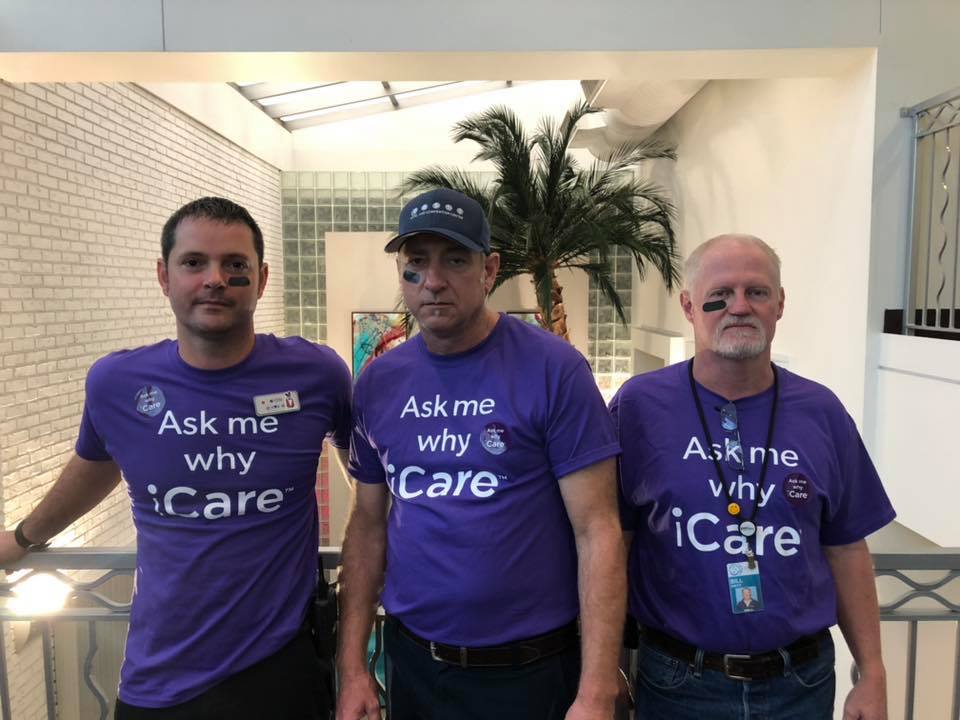 Volunteer Opportunities
---
Another way to support Harmony House is by volunteering! Oasis General Manager Missy Handyside and Prime Director of Security Bill Boehning both serve volunteer roles on the Harmony House board. There are also multiple opportunities to volunteer at the shelter doing meal preparation, building maintenance, landscaping, cleaning, or serving in the administrative office. According to Harmony House's annual report, in 2018, there were 12,298 volunteer hours logged at the shelter.
Community Grant
This year, the Oasis applied for a "Your Community. Your Choice" grant from our corporate franchise Choice Hotels International. The grant program underscores Choice's historic commitment to local businesses while recognizing and empowering hotel owners who make a positive difference in their communities. The Oasis Give Squad's commitment to Harmony House and other local non profit organizations through fundraising and volunteer efforts was detailed in the grant application. We were thrilled to be notified that we were one of the five selected grant recipients nationwide, and our charity of choice, Harmony House, would be awarded with $5,000 from Choice Hotels. This was presented to Harmony House during the 2019 iCare Kickoff breakfast held at the Oasis Convention Center (which is yet another way to show your support- purchase a ticket or a table for their event!)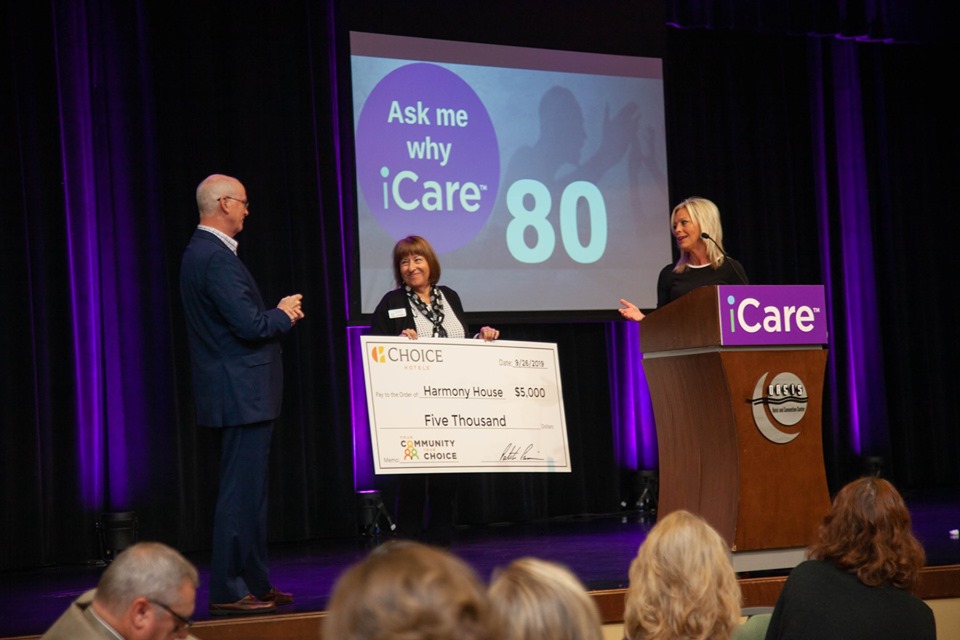 Together, we can make a difference!
In 2018, there were 41,782 safe bed nights provided by Harmony House to those in need of shelter from domestic violence. The organization provides case management, support groups, life skills and parenting classes, legal assistance, transportation, and referrals to community resources.
However you can help, we urge you to get involved and support this very worthy cause and help STOP domestic violence in Springfield!
If you or someone you know is in immediate danger, call 911. If you are in an abusive situation and are in need of services, contact Harmony House at the 24 hour safe line at (417) 864-SAFE (7233).